Ab Freitag, den 17.05.19 von 4.00 Uhr bis Montag, den 20.05.19  um 5.00 Uhr ist der Kurfürstendamm zwischen Olivaer Platz und Joachimsthaler Straße gesperrt.
Anreise mit dem Oldtimer:
Joachimsthaler Straße/Kurfürstendamm über Kantstraße oder Lietzenburger Str.
Uhlandstraße nördlich über Kantstraße
Leibnitzstraße/Kurfürstendamm über Halensee
The Kurfürstendamm is blocked between Olivaer Platz and Joachimsthaler Straße from Friday, the 17th of May 2019 4.00 a.m. to Monday, the 20th of May 2019 5.00 a.m.
Arrival by vintage car:
Joachimsthaler Straße / Kurfürstendamm via Kantstraße or Lietzenburger Str.
Uhlandstraße north via Kantstraße
Leibnitzstraße / Kurfürstendamm via Halensee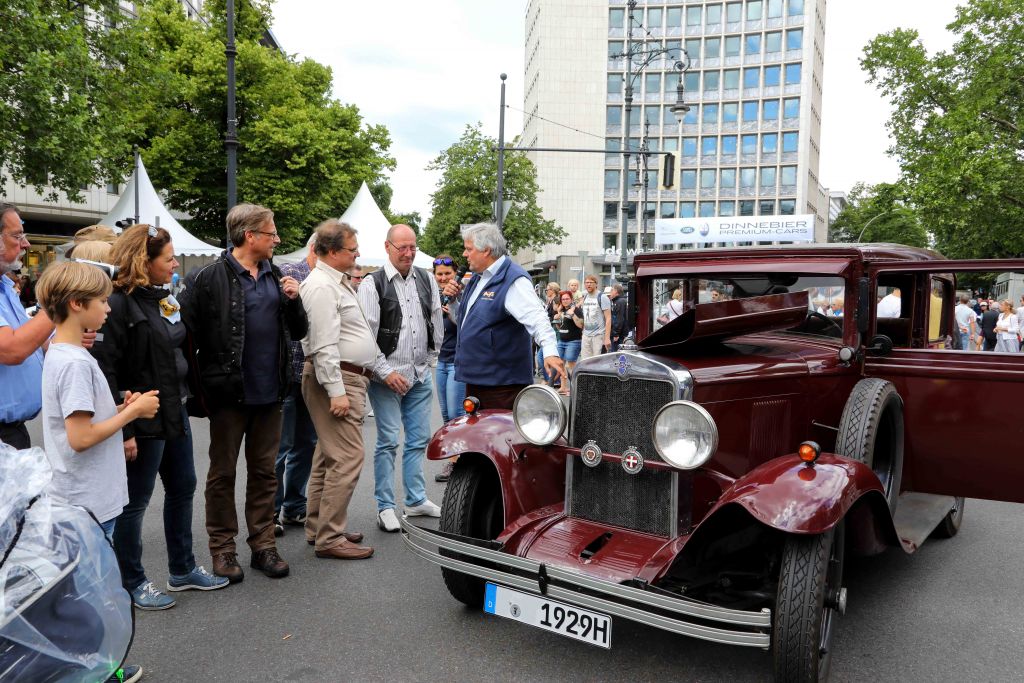 Die CLASSIC DAYS BERLIN erwecken die Geschichte des Automobils zu neuem Leben. Chrom und Lack glänzt in der Sonne und im Metall spiegeln sich die edlen Boutiquen des berühmten Boulevards. Die Historie des Kurfürstendamm und des Automobils vereint an einem Ort – die perfekte Gelegenheit Ihr Unternehmen im Rahmen dieses Events zu präsentieren. Dieses Wochenende ist ein unvergessliches Erlebnis für jede Generation.
Fakten:
Über 2.000 hochwertige Oldtimer
Jährliches Event
Über zwei Kilometer Kurfürstendamm bilden das Veranstaltungsgelände
Ausgesuchte Aussteller von Premium- und Luxusartikeln
Gemütliche Champagnerlounges, Weingärten und Cafés
Sommerliche Cocktailbars
Ausgewählte kulinarische Spezialitäten
3 fachkundige Moderatoren vermitteln auf drei Bühnen Automobilgeschichte
Exklusiver VIP Bereich für geladene Gäste
CLASSIC DAYS BERLIN brings the history of the automobile back to life. Chrome and lacquer shine in the sun and in the metal the noble boutiques of the famous boulevard are reflected. The history of the Kurfürstendamm and the automobile unites in one place – the perfect opportunity to present your company at this event. This weekend is an unforgettable experience for every generation.
 Facts
– Over 2.000 vintage cars
– Annual event
– More than two km of event ground
– Selected exhibitors of premium and luxury items
– Cozy champagne lounges, vineyards and cafes
– Summer cocktail bars
– Selected culinary specialties
 – 3 expert moderators convey automotive history on three stages
 – Exclusive VIP area for invited guests
UNSER EVENT mit IHRER MARKE für die Kunden von morgen
Die CLASSIC DAYS BERLIN begeistern die Menschen und erzählen die lebendige Geschichte der Stadt und des Automobils. Nutzen Sie diese einzigartigen Tage für Ihren eigenen, exklusiven Firmenevnet auf dem Veranstaltungsgelände.
Sie haben die Inhalte und wir die Bühne. Unsere weißen Zeltpagoden säumen den Kurfürstendamm und bieten genug Raum, Ihr Unternehmen zu inszenieren. Nutzen Sie die einmalige Chance Ihre Zielgruppe zu erreichen und Ihren Kundenstamm zu erweitern!
Aufgrund des medialen Interesses an unserer Veranstaltung, erzielen unsere Werbemöglichkeiten – wie beisielsweise das großflächige Fahrbahnbranding, Werbebanner am Defilee oder am Alutruss auf dem Kurfürstendamm – eine sehr große Reichweite in verschiedene Medienkanälen, die weit über die Besucher vor Ort hinaus gehen.
CLASSIC DAYS BERLIN inspires people and tells the living history of the city and the automobile. Take advantage of these unique days for your own exclusive corporate event venue.
You have the content and we have the stage. Our white tent pagodas line the Kurfürstendamm and offer enough space to stage your company. Take advantage of the unique opportunity to reach your target group and expand your customer base!
Due to the media interest in our event, our advertising opportunities – such as the large-scale roadway branding, banner ads on the defilee or alutruss on the Kurfürstendamm – reach a very wide range in various media channels, which go far beyond the visitors on site.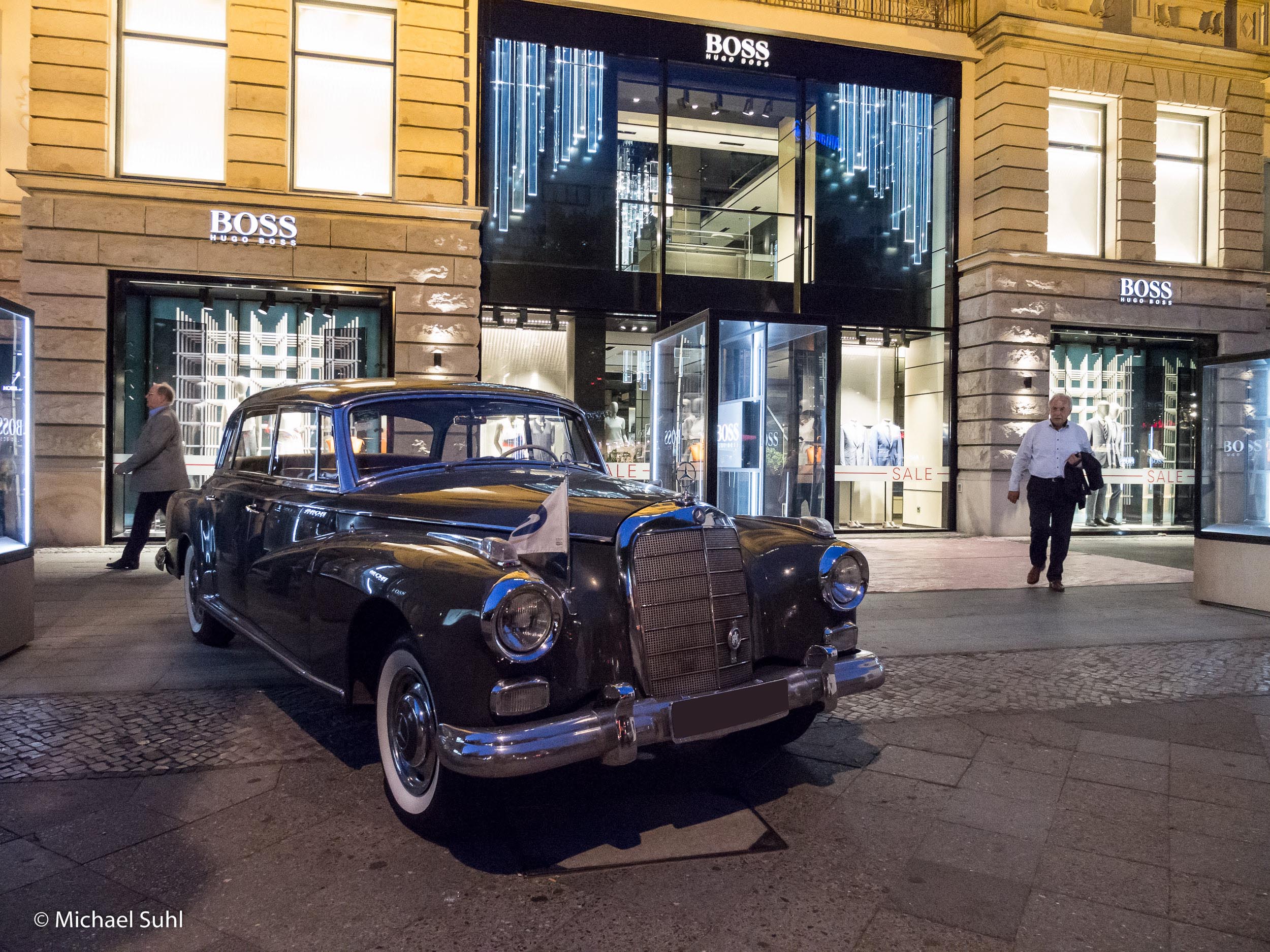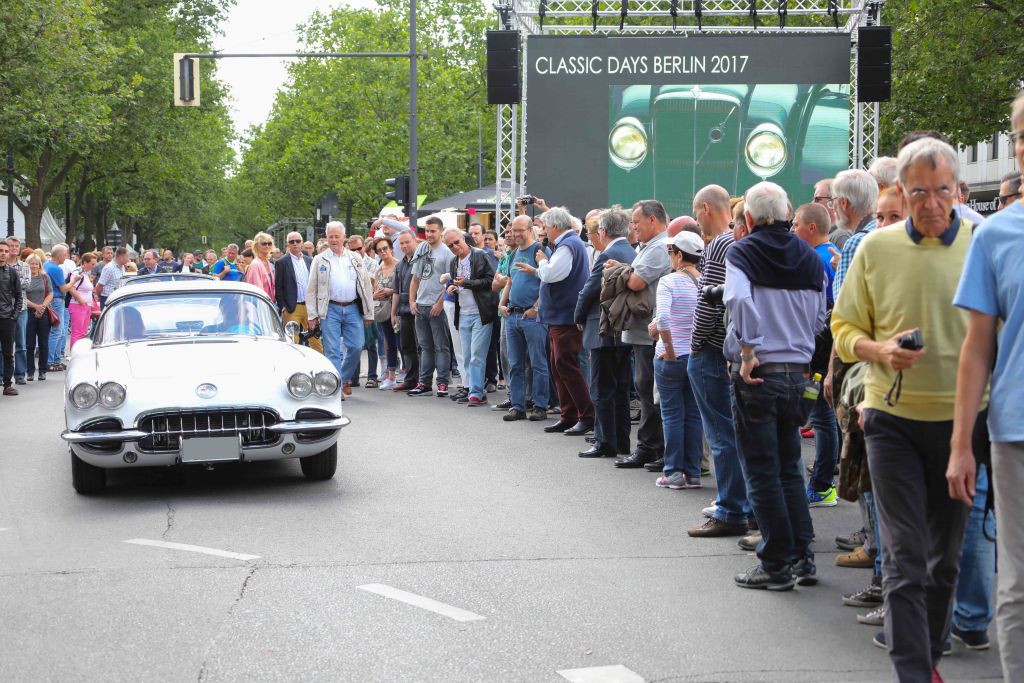 Unsere weltbekannten Classic Car Moderatoren begeistern die Besucher mit ihrem Wissen und leidenschaftlichen Vorträgen über die klassischen Fahrzeuge. An drei Bühnen gibt es die Möglichkeit, für Ihr Unternehmen ein Zeitfenster für eine eigene Präsentation zu buchen. Nutzen Sie auch die werbewirksame LED Wand unserer Hauptbühne für Ihren Erfolg!
Lassen Sie sich vom Wissen unserer Moderatoren und dem Charme der Klassiker verzaubern.
Our world-famous Classic Car presenters inspire visitors with their knowledge and passionate lectures on classic vehicles. Three stages allow you to book a time slot for your own presentation for your company. Take advantage of the advertising-effective LED wall of our main stage for your success!
Be enchanted by the knowledge of our moderators and the charm of the classics.
CHROM und GLANZ vergangener Tage
Auf den CLASSIC DAYS BERLIN werben Sie mit Ihrer Marke in einem sehr exklusiven Umfeld. Die einzigartige Präsentation von ca. 2.000 historischen Fahrzeugen vor den berühmten Flagship Stores diverser Brands lädt zum Flanieren und Verweilen ein. Unsere Besucher kommen mit Zeit und möchten entdecken – der perfekte Moment für Ihr Unternehmen. Gewinnen Sie unsere Besucher als Kunden für Ihr Unternehmen!
Classic Days Berlin attracts more than 2.000 classic cars and visitors from all over Germany and Europe each year. For this event, the Kurfürstendamm will be blocked for 3 days and the entire area can be used for promotional purposes. Companies such as BMW, Rolls Royce, Jaguar, Maserati, Ferrari and Porsche have been active partners for many years and, with their own exhibits from the classic department, are proving to be the most exclusive classical parade in Germany. In addition, every year companies such as Pommery Champagne, Chopard, Hugo Boss, Allianz, Berlin Private Bank and more are represented.
The well heeled audience with a penchant for classic elegant vehicles of contemporary history will be offered an experience of grace, passion, prestige and class. Take advantage of this unique platform to introduce yourself to the interested and enthusiastic audience and to present and sell your products.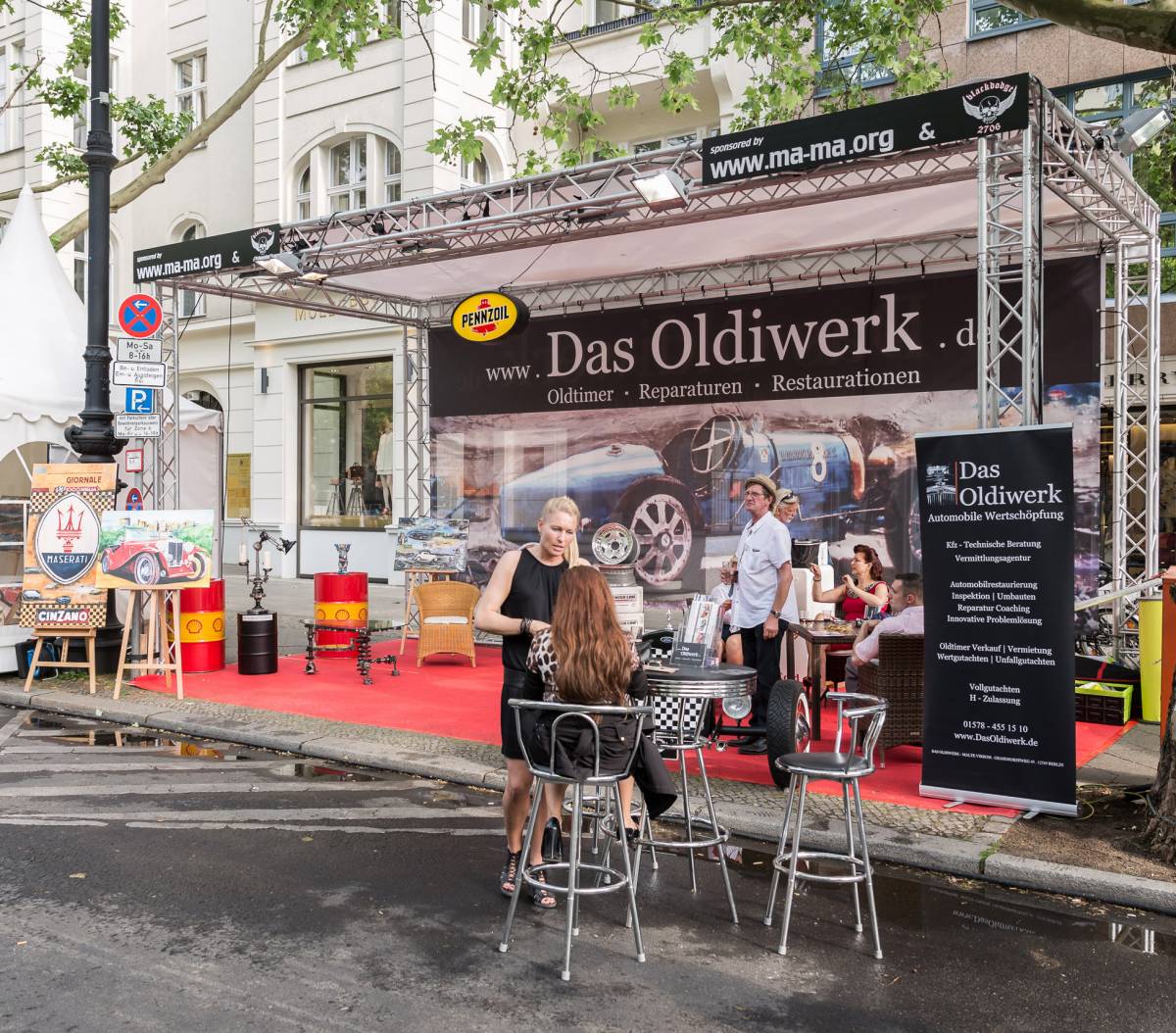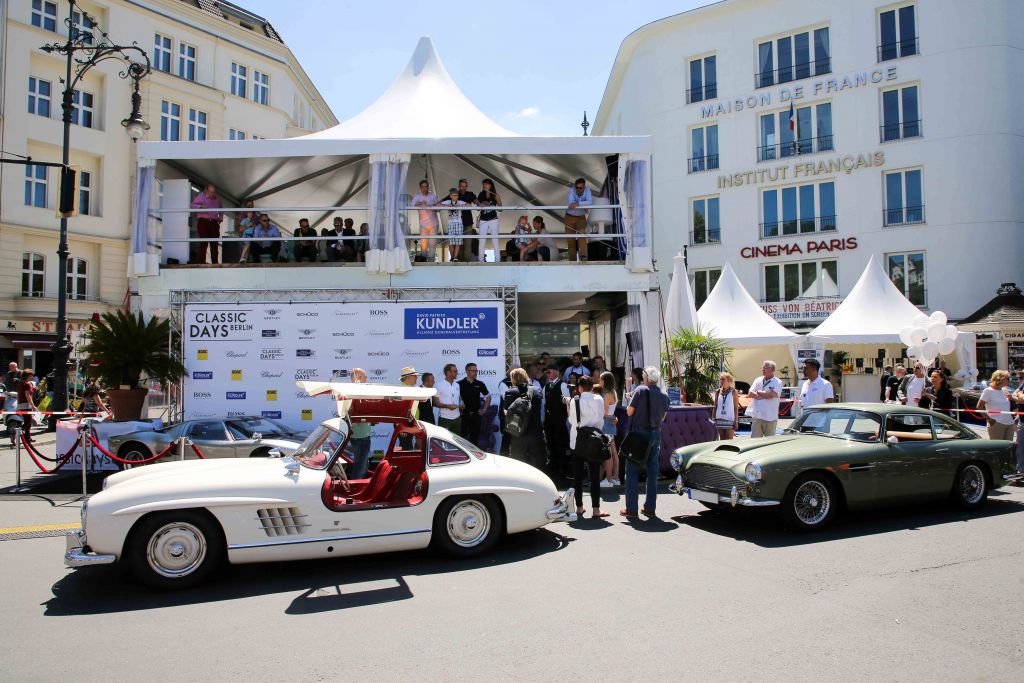 Ehrengäste verdienen außergewöhnliche Aufmerksamkeit. Speziell für diesen Zweck ist der exklusive VIP Bereich konzipiert. Erstklassige internationale Küche, Cocktailbar und eine Zigarrenlounge sind nur einige Beispiele für die Vorzüge die der VIP-Bereich bietet.
Guests of honor deserve extraordinary attention. The exclusive VIP area is specially designed for this purpose. First-rate international cuisine, a cocktail bar and a cigar lounge are just some of the benefits of the VIP area.